Drifting has become a sport that has garnered a huge followings over the last two decades. It was a very niche sports that originated from Japan and officially introduced by Kunimitsu Takahashi in the 70's. On the other hand, drifting technique was also adopted way back in the rally world known as the power-slide negotiating through high speed corners. It then slowly popularised by movies such as The Fast & Furious franchise and Initial D manga and movie. Even before the big screens, Initial D manga television series and comic in Japan was already captivating millions of fans worldwide back then. In the real world we owe it to no other than the The Drift King Keiichi Tsuchiya who spread it far and wide in the motorsports spectrum.
In the anime series, comics and movies, a lot of car models were featured and these cars in real life are truly very capable and popular drift machines. Some cars are built in a way that are easily oversteer or in layman terms going sideways or tail happy. These type of cars are mostly sought after for the purpose of drifting. Besides the oversteer characteristic of the car, it must be able to generate immense power to invoke the oversteer and maintain the slide with horsepower and torque.

The recipe for a drift car is rear-wheel-drive, light weight and high powered engine. Not all car makers got it right by simply following these design rules. Among the favourite car makes and models that are favourite among drifters are mostly Japanese brands or a.k.a Japanese Domestic Models (JDM). Not to say the continental makes are not capable, it is just that the JDMs are easier to maintain and more economical. The biggest contributing factors to this is the origin of drifting is from Japan and the influence of Initial D.
Now, let us look at our top 5 favourite drift cars of all time.
Toyota AE86 Spinter Trueno
You cannot not mention this cult status model when comes to drifting. In fact, this model is so iconic, it is the all-time favourite drift car in the history of the sport and its Japanese name "Hachiroku" (86 in Japanese) is famous among the drifting and racing community worldwide. World renowned drift king, Keiichi Tsuchiya uses this car to drift and the Initial D series and comics also feature this model as the main car for its lead character Takumi Fujiwara. So what makes this car model an iconic drift car beside its comic and movie credentials?
Being the car that solely responsible in making drifting into what it is today, the 90's popup headlight AE86 is a lightweight naturally aspirated front mounted rear wheel drive coupe. Fitted with a 1.6 litre 4AGE engine that churns out a mere 128bhp and 148nm of torque, this car is super fun, agile and tail happy on the track. Although it is nowhere near the more modern drift cars' power output, with its lack of horsepower, it compensated with its lightweight body of merely touching one tonne hence resulting in a commendable power-to-weight ratio. However, this power output is being tuned to be more powerful than it originally rolled out from the factory to cater to the power demand of a drift car worldwide.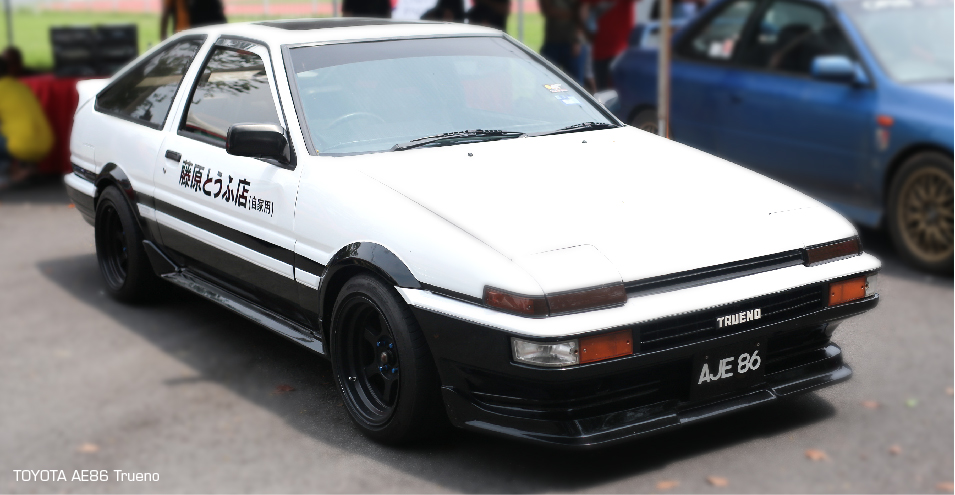 Although this car is more than two decades old, it still turn heads whenever you see one on the road. Especially one in black and white that resembles the one in the manga series and movies. In fact you'll mostly find one in black and white and not in any other colour!
It successor the GT86 is continuing its legacy and has already established itself as a reliable, fun and accessible drift car as more people can afford and enjoy drifting without breaking the bank. Maintaining the recipe of success of the AE86, the GT86 brings driving enthusiasts down the memory lane and reminiscent the past glory of the great AE86. It is like meeting an old friend which you have not met for ages.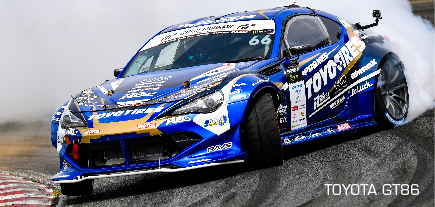 Nissan Silvia (S Platform)
Another all-time favourite drift car, the Silvia has provided continuous fun and reliabley drifting machine since the S13 right to S15 model. Across 3 models upgrade iterations, these cars were an alternatives to the more expensive and powerful Toyota Supras. Many drifter opted for the Silvia as a more economical choice and it slowly gain in popularity and demand as it performed superbly well, matching the Supra and even Nissan's own and Silvia's bigger sibling – the Skyline GTR.
Silvia is the Japan Domestic Market (JDM) name and it is known as the SX-es in the non-JDM market. Essentially they are the same. Powered by the ever reliable SR20DET turbocharged engine, it came with a stock standard approximately 200bhp and 280nm. With the engine parts upgrade and modification, these engine is capable of producing three to four time its original power output. After some two decades, aftermarket parts are still widely available for these wonderful drift machines thus maintaining its popularity among drifters.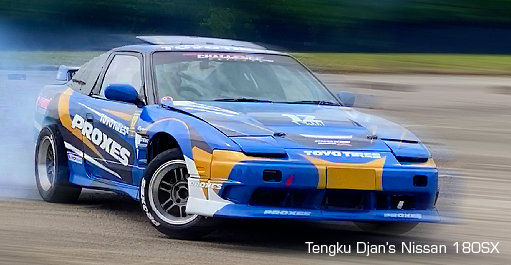 Toyo Tires ambassador Tengku Djan Ley has chosen a Nissan 180SX or S13 as his latest drift car and he recently won his maiden drift championship in the new car which he rebuilt and tuned himself to cater to his liking.
Nissan Z Cars
Yes, is Nissan again. Nissan has produced some of the finest drift cars of all time. The second Nissan cars that made it to the list is the newer and more powerful Z cars and we have yet to go into the Skyline GTR territory!
The two generation models worth mentioning are the beautifully design and sculptured 350Z and 370Z. As the model name suggests, they came in 3.5 litre and 3.7 litre naturally aspirated V6 engines respectively. The 350Z was launched in 2002, it was a revelation then and awed motorsports and petrolheads with its beautifully designed body silhouette that was the total opposite of its predecessor the more boxy 300ZX. Its biggest downfall is its weight. 350Z and 370Z are considerably a heavy vehicle for drifting and in fact for track use. The counter measures done by the Nissan's engineers were paired them with a reliable and powerful engine – the VQ series powerplant.

Capable of generating 300 plus of ponies and 370nm of torque from its legendary VQV6 engine, the Z car has lived up to its reputation of being a very capable drift car. Even without adding on a turbo it managed to generate enough power to match other more powerful cars. This is attributed to its driving dynamics, characteristics and its chassis that makes it ideal for going sideways. With the recently launched 400Z, Nissan is committed to ensure the Z car lineage is continued and this has brought joy to the drifting community as they known this 400Z will set to be another legend in the making joining the already established 350Z and 370Z.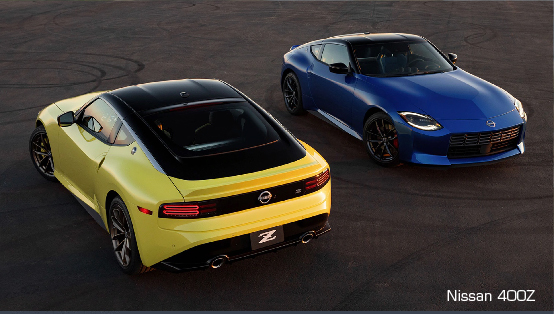 Mazda RX7 (FC and FD)
Rotary power to the fore. This iconic 90's sportscar from Mazda is a lightweight unorthodox sportscar. Other car makers were making inline 4, straight 6, boxer, V6 NA or turbocharged engines, Mazda choose its own path by producing its very own and unique rotary engine for the RX7. The result is a small capacity turbocharged engine capable of producing high power output for drifting.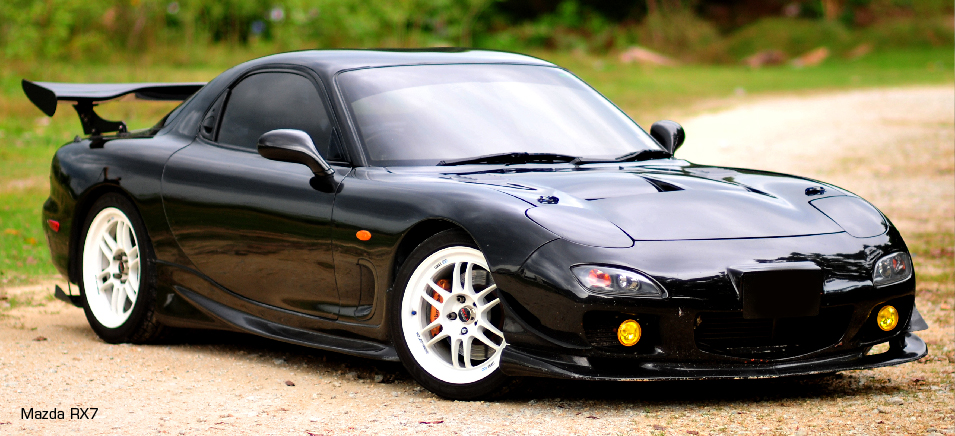 To this date, the FC and FD coded RX7 are still commanding high respect and it sits shoulder-to-shoulder with the best of all time. Finding one is super rare these days as Mazda did not make it a volume production. Even if you find one, be prepared to pay a hefty price tag for it.
A front engine, rear-wheel-drive and rotary powered engine, RX7 is unique where it only rely on a 1.3 litre rotary twin turbocharged engine to generate power that matches the likes of other 1.8L, 2.0L or even the 2.5L JDM models of the same era.. What a feat to be proud of considering the RX7 was fitted with a small displacement engine.
BMW M3
The only continental makes that is in the list and this is by no means a softies. It can stand tall among the Japanese counterparts and has earned their respect too. The M3 drifting prowess started way back in its first edition of the model, the E30 BMW M3.
Over the decades, the M3 has gone through several updates and upgrades. With every facelift and new edition, the car has shown progress and innovation. Among the 6 generations of M3s, the fans and drivers' favourite has got to be the E36 M3. This is the era of the legendary naturally aspirated inline six engine before BMW moved into the turbocharged engine direction with the F30. The M3's driving dynamics and balance provide top notch handling and coupled its award winning straight six engine, the car is very much sought after until today. If you happened to spot one on sale, it will be snapped up in no time. The other generations of M3s like the E46, E90 right up to the current G20, they never disappoint. You'll bet the M3 regardless of any generations will be among the top contenders in any racing competitions.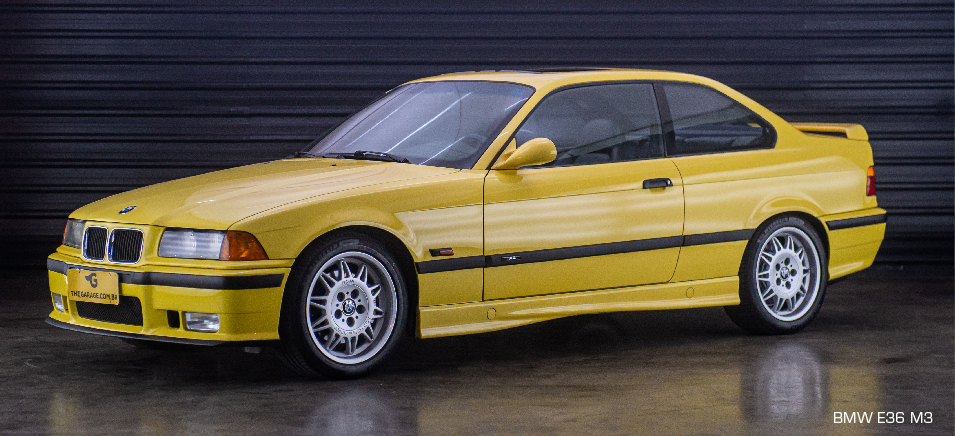 Still hugely popular and being used to drift till this days, the E36 is powered by a 3.0L straight six engine that produces around 250bhp and 300nm. Aftermarket parts are widely available till this day and this means you can modify up to your heart's content to whatever power output you like.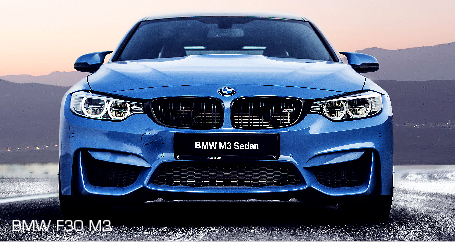 Of course there are many more finest drift car of over the years. The ones that make our list are those that have achieved cult status among the drifting world in specific and motorsports world in general. Regardless whichever model is your favourite drift car, as long as car makers stick to the recipe, developing a great drift machine is not impossible. Let's hope more and more car makers will produce more drift capable cars or at least continue the legacy created by the predecessor and current models.
Email your topic suggestion to toyo@toyotires.com.my
Check out Toyo Tires Malaysia dealer network at www.toyotires.com.my