We want our customers to understand and believe in what we do best
Toyo Tires, a Japanese tyre brand that is known the world over for its products that drive all sorts of vehicles from passenger car, SUV, 4×4 to commercial workhorses. With its wide product range of products serving the international markets, Toyo Tires' passion in creating quality tyres is growing ever so strong and it needs a renewed tagline to drive the brand, company, employees and of course its customers to unify all stakeholders to believe in this one tagline or slogan to move forward and achieve greater heights.
This is especially crucial in today's business climate where competition is getting more intense and unforgiveable. You put a wrong put forward, your brand will pay the price. We cannot see things through the similar lenses we used to decades ago. As a result, Toyo Tires is on a constant onslaught to create its new open road that will be its guiding beacon to drive this new frontier spirit forward in the future.

Open Roads Await Explained
When you are faced with an open road or in motorsport context, an open track. It is the time when you are able to fully go flat out to achieve and explore with no limitations.
To go flat out to achieve Toyo Tires' full potential, we will zoom into the elements and aspects that combine to solidify this new tagline and help to magnify this new frontier spirit.
Element of Surprise
Like the old adage "there is no surprises on ordinary roads", Toyo Tires seeks to create its new open roads that are full of surprises and sensations to be discovered. This belief has supported and driven Toyo Tires to inject the element of surprise in its products, branding and marketing endeavours. This element of surprise is translated to innovation and excitement that its customers appreciate and like to identify with.
For example, our latest product offering in Toyo Proxes TR1 incorporates the latest technology that challenges the norms in tyre making. The bold tread pattern design of the Proxes TR1 has successfully demonstrated this new guiding principle.
Surprisingly not only Toyo Tires itself but also its customers, Toyo Tires managed to secure the Official Tyre sponsorship for Toyota Gazoo Racing Festival and its earlier mentioned Proxes TR1 tyre has been selected and recognized as the official tyre for the race. This collaboration has made our customers proud to be associated with the brand.
The Fun Factor
Everybody loves a fun brand. Who doesn't? That's is why there are so many success stories of fun brands being the market leader in its respective product category. Tyre making can be fun too and this is why Toyo Tires is dedicated to produce and offer the fun element in driving through its tyres. From the more street bias Proxes CR1 to the most extreme Proxes R88R, drivers are able to push to the limits for maximum fun. Not forgetting Toyo's range of other tyres such as its SUV and 4×4 range also carry the fun factor in its development concepts.
Of all the motorsport disciplines, Toyo Tires has chosen to be identified as the drift racing brand by associating itself with Drift Formula Racing D1GP and world renowned drifter and rally driver Ken Block. On Malaysia's home front Toyo Tires has appointed Tengku Djan Ley, Malaysia's Prince of Drift as its brand ambassador, another successful and famous drifter.
Why drifting? One may ask? It is because drifting is the most fun. As Tengku Djan puts it, formula racing is like boxing and drifting is mixed martial arts (MMA). The former is governed by a lot of fixed rules whereas the latter is more flexible, expressive and at times creative. A drifter is akin to a racer cum entertainer on the track! Now, that's certainly a lot of fun to be had.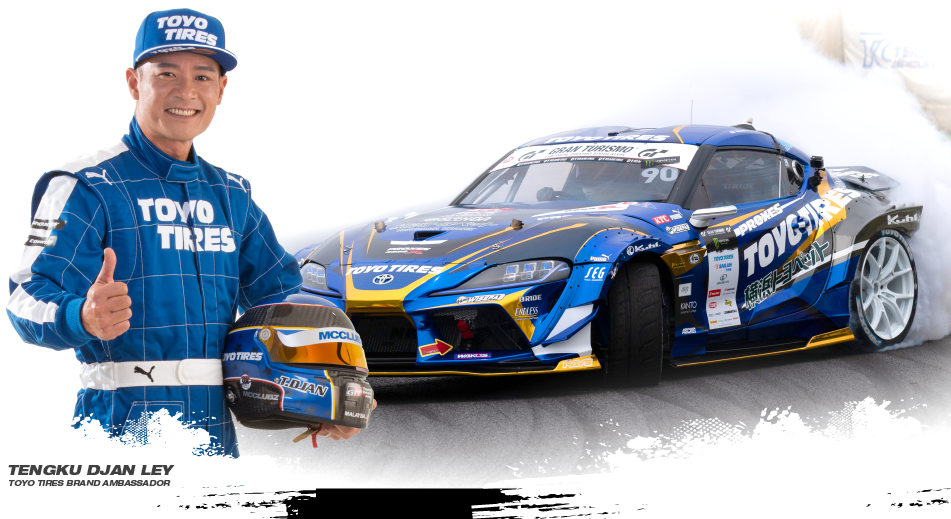 The Need for Change
Change is inevitable and constant. At Toyo Ties, change is embraced with positivity. Every new product that rolls out from its factory, every marketing promotion, every event needs to be better than the earlier editions. Change for the better and with change only Toyo can fully demonstrates it new tagline's earlier two essences -element of surprise and fun factor.
Whatever the change may be, as long as the passion and the quest for fun driving live strongly among all levels within the organization, Toyo Tires will always be on the move to keep up with people who loves driving and always on a look out for an open road for a good drive. Together the open roads await us!
Email your topic suggestion to toyo@toyotires.com.my
Check out Toyo Tires Malaysia dealer network at www.toyotires.com.my