All work and no play make Jack a dull boy
In our busy work life where each of us strive to perform, meet our KPIs and achieve whatever goals that we may have, this quest poses a tremendous stress and pressure to our body and mind. Not to mention if you were at the dirty end of the stick.
In order for us to go further and last the miles, being able to refresh and rejuvenate our mind and body is extremely important. That is why weekend road trips are particularly popular among urbanites to have a quick recharge over the weekend.
Malaysia is not short of beautiful and exciting destinations for short road trips. Be it you are traveling as a family or a couple or even with group of friends, choices are aplenty. Here are some of the perfect short road trip destinations which we think is a perfect getaway for the urban folks.
KL – Melaka
Melaka is no stranger to KL-lites and in fact to all Malaysian wherever you may live. The journey takes approximately less than 2 hours of drive from KL's Sg. Besi toll and exit at Air Keroh toll in Melaka.
Known as the historical city of Malaysia, there are many historical destinations you can visit. The first must visit place is the Dutch Square or rather known as the Red Square. Within its vicinity, you will find Stadthuys, Christ Church, Tang Beng Swee Clock Tower, Queen Victoria Fountain and Hard Rock Café, just to name a few. Located at Bandar Hilir of the Melaka City. You can't miss it as its structure is very recognizable with its reddish paintwork that stood the test of time since 134 years ago. This place is a default meeting point for tourists and is abuzz with street traders and buskers' performances.

All the mentioned attractions are within walking distance and you should cover them all in within one to two hours exploring the place. Your last stop should be at the Hard Rock Café where you can grab a few souvenirs for your families and friends.
As the saying goes, if you have not been to Jonker street, you have not been to Melaka. Famous for its colonial era buildings, Jonker Street is also known as the Chinatown of Melaka. Over the years, many shops have converted to hipster café and restaurants to keep the place renewed with its attractiveness. Besides such establishments, Jonker street is also famous for its weekend night market. A perfect destination for weekend visitors.

If you fancy some historical spots, A' Famosa and St. Paul church are spot on. A' Famosa is the perfect sightseeing spot in Melaka and for photography lovers, this place presents plenty of photo opportunities for some memories to bring home from your Melaka trip. If you yearned for more historical past of Melaka, St. Paul church certainly able to fulfill that as this is another significant historical site. Built in 1521, this iconic church is located at the hilltop of St. Paul hill thus providing a picturesque view for tourists.
A 3-day 2-night stay in Melaka over the weekend should suffice for a rejuvenated trip before you dive back in the hustle and bustle of the city again. If you want to explore more, probably you need to extend your stay as there are more to see and do in this historical city.
KL – Ipoh
Mentioned Ipoh, one would probably think of its food offerings. This is because Ipoh is known as one of the favourite hunting ground for foodies alike. Approximately 2 and a half hour drive from KL, you will be greeted by a huge "IPOH" giant wordings structure to signify you have reach your intended destination.
Among the famous must try Ipoh delicacies are bean sprout chicken rice "Nga Choy Kai", white coffee, yong tau foo, dim sum, salted chicken "Yim Kuk Kai" and Chee Cheong Fun. These foods are a must have in your menu if you are visiting Ipoh for a gastronomic tour.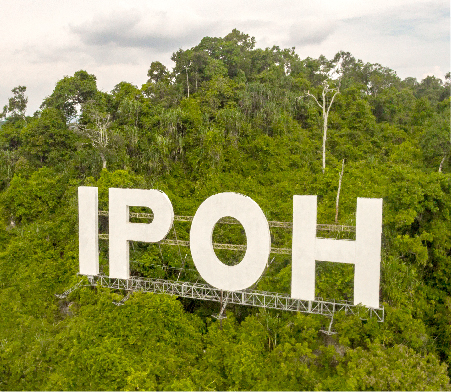 Besides famous for its food, Ipoh is also well known for its caves. These are limestones caves that are formed as a result of a process that started million years ago. Most of these caves are house to Buddhist temples and the most famous being the Sam Poh Tong Temple. The non-temple caves are Tambun cave and Tempurong cave.

If you fancy something more modern, Ipoh also has a few theme parks for some family fun, especially the young ones will be excited to visit. The Lost World of Tambun is a must visit and it is one of the well-known theme parks in the Northern region of Peninsula Malaysia. A visit there will take up one whole day of your trip as there are list of exciting activities that last till night time to keep the visitors entertained. There are other theme parks too like Bukit Merah Laketown theme park which is one hour drive away from Ipoh.
Ipoh is definitely a worthy family road trip that caters to the young and old. Your whole family will sure to like it and a return trip will follow suit in the near future as the distance is not too far from KL.
KL – Bentong
Being the favourite weekend destination for a short day trip, Bentong is considered one of if not the nearest destination for Kl-lites. It only takes about an hour drive from KL's Gombak toll to Bentong town.
Known for its durian orchards, Bentong is particularly packed with weekend travelers during the durian season. Due to its fame for being a convenient weekend escape spot, even during a normal weekend, traffic jams are a normal occurrence within Bentong town centre nowadays.
Durian stalls can be found at almost every few hundred metre along the road side in Bentong together with other fruits stalls of course. Food hunting can never escape the to-do-list for any road trip. The famous Bentong town market area is where you should be heading for a good meal. There are Wan Ton Noodles, Yong Tau Foo, porridge, ice cream, dessert, ice kacang, cendol and other street food for your selection. You'll be spoilt for choice!

Bentong is also famous for its kopitiams. Thong Kee kopitiam serves up to the usual kopitiam offerings. Its famous Cham Peng (mixture of coffee and tea) and kaya & butter toast is a must order whenever you are there. Another kopitiam worth visiting is Lao You Kee kopitiam. It provides an alternative to Thong Kee and its polo bun and caramel coffee are a hit with visitors.
Usually it only takes a day trip to explore Bentong, but if you want to relax and enjoy the nature Bentong has to offer as it is located on high terrains, you could put up a night too.
KL – Cameron Highlands
If highlands and cool weather is your thing, then Cameron Highlands is a perfect weekend getaway for you. This popular spot can be reached via two routes. We will suggest to use the Simpang Pulai road as compared to the old Tapah route which is more dangerous with narrow roads and tight corners.
There are plenty of activities to embark on in Cameron Highlands. The must visit is the BOH Tea Plantation where you can enjoy nice hot BOH tea or coffee with the pastries at the café overlooking the entire plantation. A sight to behold. Other not to be missed attractions are the strawberry farm, butterfly farm, honeybee farm and rose garden.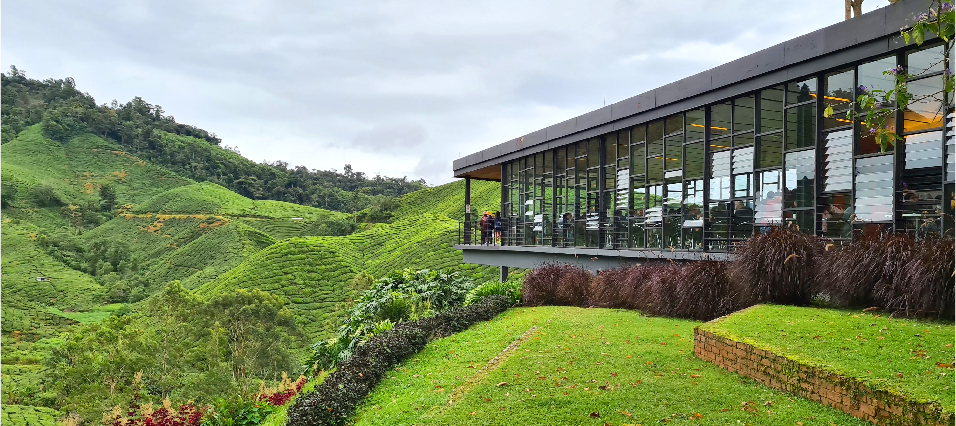 After visiting all these places and when comes to filling up your tummy, the numerous steamboat restaurants provide aplenty steamboat choices. It is especially satisfying as the hot broth is the best to be enjoyed amidst the cool weather in the evening which tends to get colder.
Fancy a slow walkaround after dinner, then the weekend night market is the best place to go for a slow stroll along the stalls. You can even get some fresh vegetables, fruits and some souvenirs too.
Well prepared for the road trip is important
Road trip can be fun and as the name suggest, your transportation mode is by car or bike unless you are traveling alone. Getting to your intended destinations safely is the number one agenda before you plan where to go.
As part of your preparation for the trip is to make sure your vehicle is at its best condition so you can arrive safely at your destination. For peace of mind, we suggest you visit to your nearest Toyo Auto Centre for a thorough inspection. Be it for tyre checks or full vehicle servicing our Toyo Auto Centres are able to give you the best service and professional advice.
Email your topic suggestion to toyo@toyotires.com.my
Check out Toyo Tires Malaysia dealer network at www.toyotires.com.my