Know Your Vehicle, Know Your Needs
There are many forms of motor vehicle these days on the road. The common ones are sedan or saloon depending on which parts of the world you are at. Within this group, we can spin-off to hatchback, wagon, coupe, cabriolet. Then we have Sport-Utillty-Vehicle aka SUV, Multi-purpose Vehicle aka MPV, 4×4 pick-ups and many others.
All these vehicles body type requires different types of tyre to complement their performance. If you bought a new car, the OE tyres that are fitted onto the vehicles are determined by the manufacturers where, research and thorough study had been carried out before the particular tyre brand and model is decided best suited for the vehicle. In fact many OE tyre models are specially developed only for a particular vehicle model.
Let's explain this from the tyre models point-of-view rather from the vehicle side as there are too many vehicle variations that can complicate things. In general, tyre can be categorized into a few categories. Let's dive straight into it. Basically there are passenger car tyre, SUV/4×4 tyres and commercial tyres. We will leave the last group out for the time being.

Malaysia OE Tyre Fitment

Passenger Car Tyres
To simplify things, regardless of which vehicle type such as passenger car tyres like sedan, coupe, wagon or cabriolet, the available tyre types are divided into comfort biased vs performance tyres. Under performance tyre, they are further broken into high performance and ultra-high performance.
Eco tyres or comfort tyres are made for mostly drivers who want comfort for daily driving. This tyre type is vastly available for lower displacement vehicle for example vehicle in A-segment to C-segment. The vehicles are not that powerful and most naturally aspirated. These eco tyres usually pitch on high mileage as people who fit these tyres look for value for money deal. Since these tyres offer higher mileage they naturally sacrifice on grip level. Due to recent advancement in tyre making technology, these tyres has low-rolling resistance properties which will enhance mileage and fuel saving.
To put things into perspective, eco tyres offers comfortable ride, quiet performance, high mileage, low-rolling resistance and fuel saving as their main offerings.

However, there are also eco or comfort tyres for higher segment vehicles which provide better grip and yet still maintaining eco/comfort attributes. For example tyres for luxury saloon or people who drive D-segment and above ride and want a comfort biased tyre.
Moving up the rank is high performance and ultra-high performance tyres. These group of tyres are made for high powered displacement, supercharged and turbo charged vehicles. People who go after these tyres and usually people who enjoy driving and high grip level is the utmost attributes. They do not mind the noise level and sacrificing a little on the comfort.
Drivers of performance cars are the likely bunch to go for these group of tyres. High and ultra-high performance tyres offers high grip level, slightly noisier tyre roar, harsher ride and exceptional cornering prowess. All these point to great handling which is the main priority. Again in the last decades, tyre manufacturer managed to lower the noise level, up the comfort level whilst maintaining high grip level in these tyres. One more point to note is that since the grip level is high, this translates to poor mileage as more sticky compound and less durable rubber is being used.

Multi-Purpose Vehicle (MPV)
MPV is designed to be people carrier as its core proposition. People who owns MPVs uses it to ferry their families and occasionally carry goods.
For this purpose, the tyre choice is definitely comfort tyres with luxury ride thrown in. In short, it is a performance comfort tyres that provides good ride quality, quiet, comfort and good grip. Its sidewall is stiffer than that of passenger cars due to vehicle weight and height, this provides good cornering grip as well.
Not many tyre brands actually make specific MPV tyres but there is nonetheless. OE models is rare and replacement models are aplenty, depending on the owner preference. Words of advice is not all tyre models are suited for MPV. The rule of thumb is the specific tyre model must be XL specs.

SUV/4×4 Vehicle/Pick-ups

SUV vehicles owners, one must decide whether their intended daily usage is for on-road or off-road. Most SUVs are built for city on-road driving, hence the tyre choices available are the SUV version of the passenger car model but with stiffer sidewall construction to compensate the vehicle's weight.
If the SUV is used mainly for off-road which is rare, then one should opt for off-road range. This leads us to the next tyre type, off-road tyres.
Pick-ups are workhorses used primarily for industrial activities. However in recent times, they are made more comfortable and provide a more luxurious ride compared to models of yesteryears. Regardless the intended usage be it on-road or off-road, the tyre choices should from the off-road range. The only difference is one should should go with either urban-terrain (UT), All-terrain (AT) and mud-terrain (MT) models or any other available under the off-road banner.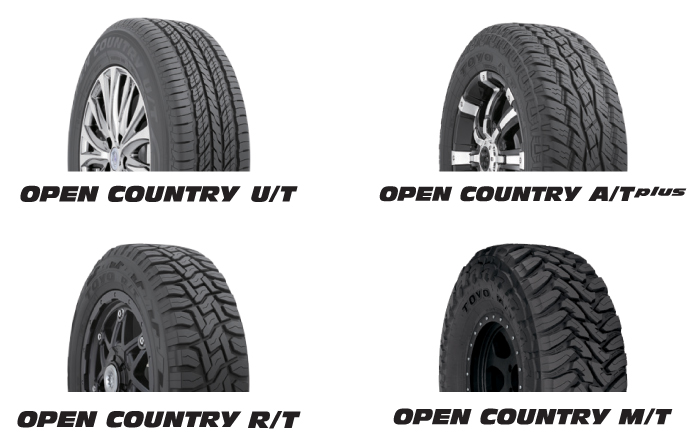 At Toyo Tires, we have a full range of tyres from OE models to replacement models to cater to almost every vehicle and usage needs. Visit our Toyo Auto Centres to find the best fit to suit your vehicle!
Email your topic suggestion to toyo@toyotires.com.my
Check out Toyo Tires Malaysia dealer network at www.toyotires.com.my